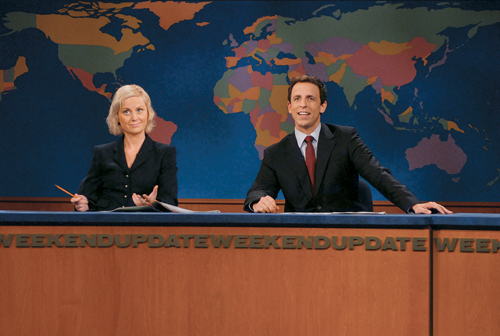 ...though definitely not as entertaining as the SNL skits as of late. And by late, I mean dead. Dead after the election. Here's hoping for a revival. I could use another "bummer free zone" declaration around here.
This weekend was fantastic. Mom and Dad whisked me away to Atlanta where they attended the SEC championship game (sad) and I shopped myself into happy oblivion. It was somewhat acceptable because a) I was getting things I needed (ie, new boots) and b) it counted as Christmas for me. I love walking around malls at Christmas, especially when most of my shopping is done. I can just enjoy the decorations and the Starbucks and the crazy mob people clamoring for anything to give the dozens of people on their list. This year, my immediate family drew names, making it a lot easier, and less expensive, than years past. Plus, more fun! I got to really think about my brother and his wife and what they might want, rather than just checking them off. Does this mean I'm getting older? Or just lazier... Time will tell.
Besides shopping on my own, Mom and I also ran around to a few bridal shops to find a dress for her to wear to the wedding. It's so fun to watch your Mom have fun shopping, looking for something just for herself. Mom has trailed me dozens of times as I hunted down the perfect (fill in the blank here), so it was super entertaining to be her posse, and finally be able to say, "Try that one on again." Ha! Love it.
The good news is that we got Mom a dress that she loves and that I think is fantastic. One of the highlights of the weekend. We also got to have brunch with B's parents, where the moms were able to swap engagement party invitations and talk shop about their dresses. It was wonderful having them together, and I only wish B had been there, too.
I got back on Sunday and got cooking on a few care packages and just unwinded with some wine as I got ready for the work week. It was definitely weird being in Atlanta without B, but nice to have some down-time with the parents, too.